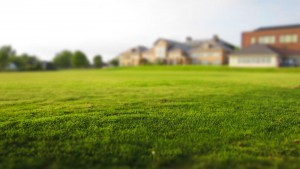 While organic gardening has been popular for decades, more and more homeowners are looking to natural solutions to lawn care as well. In addition to minimizing harmful nitrogen and phosphorus runoff that can pollute groundwater and waterways, going organic helps to improve soil health, reduce irrigation needs and provide long-term nutrition to keep your lawn green and lush year after year.
Chemical Fertilizers are a Quick Fix
Chemical, or synthetic, fertilizers are highly refined solutions derived from natural gas and petroleum products. They are specifically designed to encourage the rapid absorption of nutrients, making them ideal for plants that need a quick nutrient fix.
However, since they are so readily absorbed, synthetic amendments are easy to overapply, leading to chemical damage to plants. Chemical fertilizers are also highly water-soluble, which means they wash out of the soil quickly during heavy precipitation or regular irrigation. In addition to polluting runoff and groundwater with excess nitrogen and phosphorus, this type of fertilizer needs to be reapplied frequently to maintain good nutrient levels.
Organic Fertilizer Encourages Natural Nutrient Release
Organic soil amendments are made from animal and plant products that are minimally processed. These fertilizers combine nutrient-rich ingredients like bone meal, ash, fish emulsion and peat moss that get broken down slowly by bacteria and fungi in the soil.
Instead of feeding plants directly, organic fertilizer enhances the natural symbiotic process that plants have been relying on for eons: absorbing nutrients produced by microbes during decay. By encouraging this natural process, organic fertilization creates a healthy, self-sustaining growing environment that tends to retain more moisture and nutrients.
Organic Fertilizer for Long-Term Lawn Health
While chemical fertilizers are readily available and relatively inexpensive, they serve only one purpose: deliver raw nutrients to plants. Any unused nutrients are simply washed away and do nothing to improve the soil itself. By feeding the entire ecosystem of your lawn, including the microbes in the soil, organic amendments offer much better outcomes for long-term lawn health.