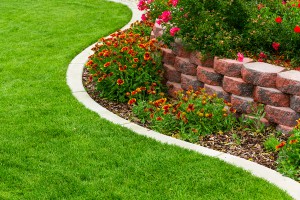 If you plan on growing vegetables or other edible plants, early spring is a great time to start a few cool-weather crops. Start with lettuce, broccoli, peas or spinach as soon as possible to have a plentiful bounty early in the season. Some seeds can be started indoors before transferring them to your garden later in the spring. Peppers, tomatoes and eggplants do well when started under warming lamps or in the windowsill.
When it comes to your landscape plans, you can get a start once the snow is melted off of the ground. There are plenty of tasks that need to be completed, such as clearing away dead plant matter, mulching or preparing and testing the pH of the soil. At Organic Nature Lawn Care our professionals can take care of all of these tasks including more complicated jobs like pruning or even dividing perennials.  If you are a novice gardener, it can be helpful to have someone with experience help you determine which plants should go in the ground first. Our landscaping experts can provide a design consultation to help you determine the look and layout of your gardens.  By speaking with a professional before work begins, you'll likely avoid common landscaping frustrations of frosted plants and not so fruitful gardens.
Early springtime can be a very exciting season, especially for those who love to get outside and get their hands dirty. It is the best time to prepare for the growing season to come, and to get a few plants started in anticipation for the warmer spring days.
For help getting your landscape off to healthy start this spring don't hesitate to call us at Organic Nature Lawn Care. Click here for a quote!